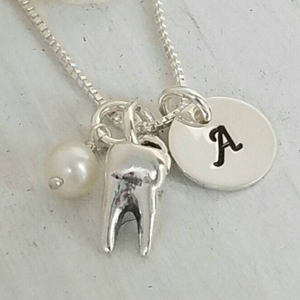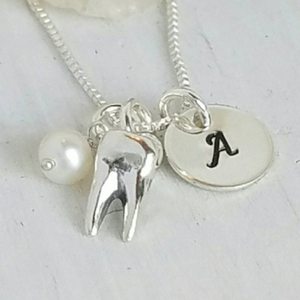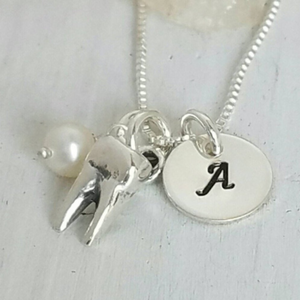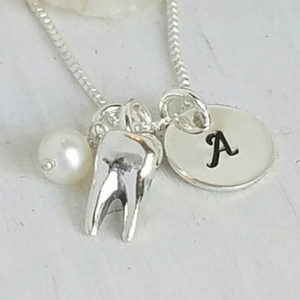 Dental Hygienist Tooth Necklace - Sterling Silver
The dental hygienist necklace is super cute!! Dainty and .925 sterling silver the "pearly whites" tooth necklace is the perfect gift for any dentist, hygienist, assistant, or even a student! Hand stamped on a 3/8th's tiny sterling silver disc with your initial and a white freshwater pearl, it is a perfect match. Can be a gift or for yourself, Its beautiful, unique and falls nicely around the neck. The tooth is the perfect size and is shiny and full sterling, brought together with the pearl and your initial, I call it my PEARLY WHITES necklace. Very dainty and cute a must have! So meet me at the beach and wear your star fish necklace!


**Do not forget your pro polish wipes to always keep it clean and shiny for years to come**

INSPIRE ME… I absolutely love making custom pieces, please send me your ideas and I will make it! From hand stamping personalized jewelry, to bridal or costume jewelry…anything you want, let me know your ideas! This motto of this shop is… INSPIRED BY YOU, MADE BY ME 

Please join my Facebook fan page ...click here!
https://www.facebook.com/saltyreignjewelry and instagram @saltyreignjewelry

For all custom made and personalized pieces, each letter is stamped individually by me and by hand, there is no machinery is involved, so there may be slight variations in the spacing and depth of each letter, adding to the uniqueness of your personalized custom made order! Providing you with the best quality of materials and excellent customer satisfaction is my highest priority. Enjoy.

Jewelry by Gena wants to THANK YOU for visiting my shop, I hope that you will enjoy your custom item as much as I enjoyed making it!

THANK YOU,

Gena
A mother of 3 that loves to make jewelry!