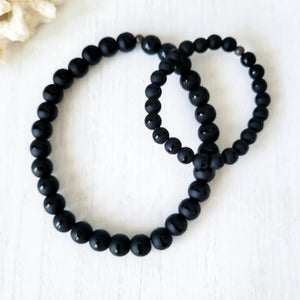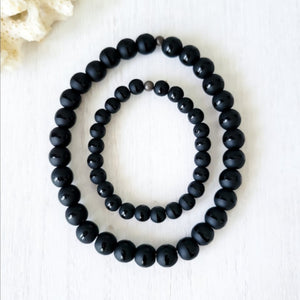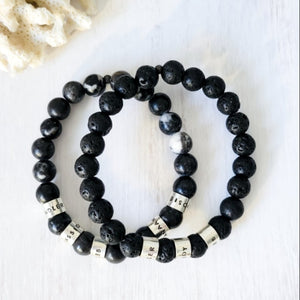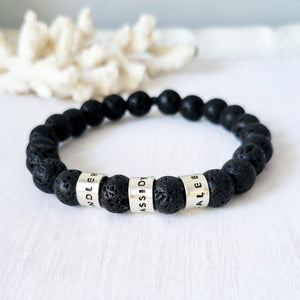 Men's Large (10mm) Stone Bead and Name Bracelet
This bracelet has been a huge hit for men and fathers! Order just the bracelet itself or add names on solid sterling silver rounded mini discs to compliment the stone. This listing is for large beads at 10mm in size, I do also have a listing for medium 8mm beads as well.  You can add as many as 8 names! Absolutely gorgeous natural stone and comfortable. This bracelet is made completely customized for you, Any name is available. Hand made in the USA! It is made for you and to fit, just send me the length you'd like and I will make the perfect bracelet for your little! Perfect for every day wear. Buy one or buy them all, they are perfect for wearing alone or layering with any bracelets you already have as well.

………………………………….
D E T A I L S

•  Natural Stone beads 
•  Stretch or Clasp 
• All raw materials are USA sourced and recycled

** Bead sizes are 10mm - There is another listing under Men's Medium 
Bracelets are $25 each and names are $9 each to be added 

………………………………….

• All personalization is done BY HAND. Because it's better that way.
• Ethically Sourced, USA raw materials
• All items come in a gift box
• Handcrafted with love in Dacula Ga
.............................................

HAPPINESS GUARANTEE: I want you to LOVE your new jewelry! If there is ever any issue at all please notify me to make good on that promise... Here or by phone at 770-598-7947

………………………………….

H O W ∙ T O ∙ O R D E R

STEP 1:
In the 1st drop down menu find and select the option that has…

• Size
• Color
** Please leave all personalization remarks in the message box at checkout
For example, your note might look like this: examples
lowercase - "loved"

………………………………….

L E N G T H

Length = 5-8 inches (Children's are available in another listing and are 3 to 5.5 inches)


………………………………….

CU R R E N T ∙ P R O D U C T I O N ∙ T I M E S

All items are made to order. Please check the top of our policies page for the most up to date info. If you need it sooner, select expedited shipping at checkout and leave us a note with your "need by date". As dates of shipping are usually very quick but do fluctuate with Holidays

……………………………….

M O R E ∙ G O O D ∙ T H I N G S

Instagram: instagram.com/saltyreignjewelry
Facebook: facebook.com/saltyreignjewelry
Pinterest Page: pinterest.com/saltyreignjewelry


………………………………….

A B O U T

Everything is made by me, Gena, with help from little hands and my man (My children tape your labels on for you and put a card in each package). Our small business was built from the ground up in our happy little home and is based on integrity and the genuine desire to make people happy. You can trust that all our pieces are top quality, and hand-crafted by people who really care. We love our customers - you're in good hands.