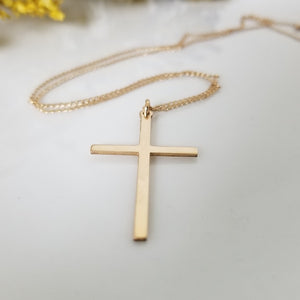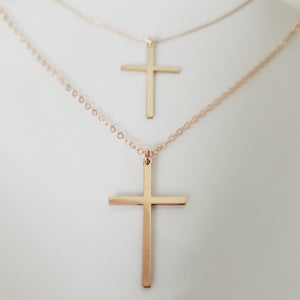 Long Sleek Cross Necklace - Gold or Rose Gold
The sleek and simple large cross in gold and rose gold! Clean lines, dainty every day necklace ... this piece just stands out without even trying... a must have! 

………………………………….
D E T A I L S

• 100% 14k Gold Filled or Rose Gold Fill
• Cross size:  Just over 1 Inch long and 3/4 Inch wide                                                      • All raw materials are USA sourced and recycled

- I can also do a different finish/texture:
- - - - choose at checkout out if you'd prefer the disk smooth, brushed or with just hammered edges only. If there is no note left the item will come smooth as shown.
………………………………….

• All personalization is done BY HAND. Because it's better that way.
• Ethically Sourced, USA raw materials
• All items come in a gift box
• Handcrafted with love in Dacula Ga

HAPPINESS GUARANTEE: I want you to LOVE your new jewelry! If there is ever any issue at all please notify me to make good on that promise... Here or by phone at 770-598-7947

………………………………….
H O W ∙ T O ∙ O R D E R

STEP 1:
In the 1st drop down menu find and select the option that has…
• The material you want
- - 14k Gold Filled or 
- - Rose Gold

STEP 2:
In the 2nd drop down menu find the option that has...
• Your finished necklace length


………………………………….
L E N G T H

Length = the open necklace laid straight & measured end to end.

Finished Necklaces are in 16, 18, and 20 inch, for longer options please message me

………………………………….
MORE WAYS TO PERSONALIZE

Add another Disc: Please message me and I can arrange that with you

Add a Gemstone Drop or Link: Please contact me for the add on listing or search "add-on" on my Salty-reign.myshopify.com page

………………………………….
C U R R E N T ∙ P R O D U C T I O N ∙ T I M E S

All items are made to order. Please check the top of our policies page for the most up to date info. If you need it sooner, select expedited shipping at checkout and leave us a note with your "need by date". As dates of shipping are usually very quick but do fluctuate with Holidays

……………………………….
M O R E ∙ G O O D ∙ T H I N G S

Instagram: instagram.com/saltyreignjewelry
Facebook: facebook.com/saltyreign
Pinterest Page: pinterest.com/saltyreignjewelry

………………………………….
A B O U T

Everything is made by me, Gena, with help from little hands and my man (My children tape your labels on for you and put a card in each package). Our small business was built from the ground up in our happy little home and is based on integrity and the genuine desire to make people happy. You can trust that all our pieces are top quality, and hand-crafted by people who really care. We love our customers - you're in good hands.